Everything I'm working on is coming along great, but since I'm working on several projects, it's always hard to decide which one to work on. If only I could convince my boss to let me knit all day at work, lol.
I started a scarf tonight that I'm calling my Newlywedness Scarf. I designed it myself. The colors are close to our wedding colors, and my new initials will be on the scarf. It's looking really cool. Hopefully I have enough yarn. I used Excel to plot it out; here's what the end should look like once it's knitted. (The initials will be in the teal.)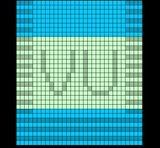 Joe's hat looks great now that I am working a pattern that makes sense. The brim is coming along nicely.

My socks sontinue to be awesome. I really love knitting them. I can't wait to see a completed one.
I got some great new yarns yesterday also. I got the gorgeous yarns I'm using to make my scarf. I went to Lakeside Fibers here in Madison, and got some Ultra Alpaca Light by Berreco, and some Cashsoft DK by Rowan. That cashsoft is great. It really is super soft and feels great to work with.